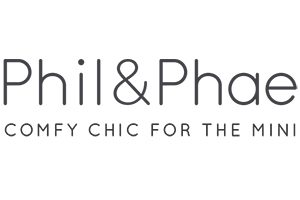 We zijn er trots op dat Little Department Store het mooie merk Phil and Phae in Rotterdam mag verkopen. Phil & Phae is verkrijgbaar in onze stenen winkel op de Kleiweg. Mocht je een vraag hebben over de collectie, neem dan contact met ons op via info@littledepartmentstore.nl of 010-7371753. Benieuwd welke merken Little Department store nog meer verkoopt? Neem een kijkje op onze pagina met merken.
Over Phil&Phae
Phil & Phae staat voor comfy chic kleding voor baby's en kinderen tot 6 jaar oud.
Phil and Phae gelooft dat een goed ontwerp bijzonder is, maar er tegelijkertijd moeiteloos uitziet: uniek, maar niet te ingewikkeld. Er wordt gebruik gemaakt van moderne maar tijdloze modellen en vooral veel aandacht voor details, uitgevoerd in de zachtste materialen. Bovendien bevatten de smaakvolle kleurenpaletten natuurlijke kleuren en zachte tinten die de aandacht niet afleiden van waar het om draait: jouw kind.
Phil & Phae heeft een duurzame ontwerp-filosofie: naast de nieuwe kleuren en toevoegingen die elk seizoen worden geïntroduceerd, zijn de modellen tijdloos en zo ontworpen dat je ze ook volgende seizoen – of daarna – nog aan kunt trekken. Bovendien wordt de kleding ethisch geproduceerd, gaan zij regelmatig zelf langs bij de naaiateliers en maken ze zoveel mogelijk gebruik van organisch katoen.
Volg ons op instagram voor outfitinspiratie!